RADIESSENCE is a quick and easy makeup that yields a soft, smooth and younger looking skin. Enjoy a natural radiance that lasts all day long.
| | |
| --- | --- |
| | Purchase RADIESSENCE products online via PayPal (use your PayPal account OR your credit card). |
Shipping within New Zealand and Australia is free on purchases over $50 (ex GST).
Retail tanning Products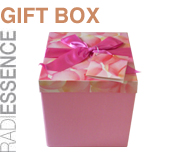 Gift Box
Send any of our products to friends or family with your personal message in our Gift Box.
Products for the Gift Box are purchased separately. Your message and the address that we will ship the gift to are entered in Step 2 of the checkout process.
Please note we will only send the receiver of the gift a delivery note. You will receive a confirmation invoice via email. Colour may vary from image shown.
NZ$6.00 (inc GST)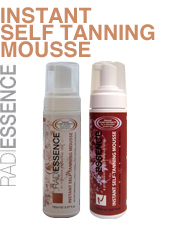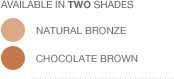 Instant Self Tanning Mousse
RADIESSENCE Instant Self Tanning Mousse – the next generation in tanning technology for a perfect all-over professional tan. RADIESSENCE Instant Self Tanning Mousse has been formulated with revolutionary plant extracts to revive the skin with an instant natural looking tan that lasts for up to 7 days. Complement with RADIESSENCE Foundations and Pressed Powder Mineral Bronzers for an incredible no make up look. Apply using the Tanning Applicator Pack or the Quick Tan Microfibre Application Towels.
Size: 150ml Tanning Mousse
NZ$49.90 (inc GST)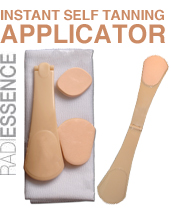 Tanning Applicator Pack
The RADIESSENCE Tanning Applicator Pack contains all you need to achieve a flawless Instant Tan! The Exfoliating Cloth for face and body removes excess oils, dead skin and makeup without harming the skin – leaving the skin smooth, healthy and younger looking when used regularly. This creates the perfect base for applying RADIESSENCE Instant Self Tanning Mousse. To create your natural, professional looking tan, use the RADIESSENCE Tanning Applicator. Great for hard to reach places, the RADIESSENCE Tanning Applicator helps you keep your hands stain free and create a professional no-makeup look.
The Tanning Applicator Pack contains 1x Tanning Applicator, 1x Exfoliating Cloth, 1x Tanning Applicator Pad, and 1x Sponge for facial application.
NZ$16.00 (inc GST)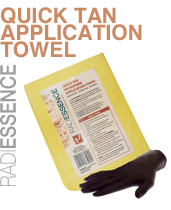 Quick Tan Microfibre Application Towel
The RADIESSENCE Quick Tan Microfibre Application Towel is made of a special grade microfiber for applying the RADIESSENCE Instant Tanning Mousse to achieve a quick, easy, no mess, even tan. The handy size ensures you have good hold on the towel for complete ease of use and full body coverage from the face to the feet.
The RADIESSENCE Quick Tan Microfibre Application Towel comes with one pair of gloves.
NZ$14.00 (inc GST)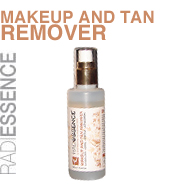 Makeup and Tan Remover
RADIESSENCE Makeup and Tan Remover is the natural, effective and gentle way to cleanse the skin from makeup and tanning products, while leaving the skin toned. Especially formulated alcohol free for use on sensitive skin, RADIESSENCE Makeup and Tan Remover is effective for all body cleansing and toning.
This alcohol free product combines the anti-bacterial, cleansing and antiseptic properties of tea tree oil, the soothing properties of aloe vera and the skin firming properties of witch hazel to provide a deep cleansing and toning of the skin.
Size: 125 ml
NZ$19.90 (inc GST)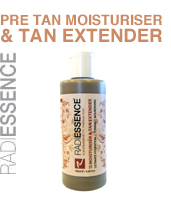 Pre Tan Moisturiser and Tan Extender
RADIESSENCE Pre Tan Moisturiser and Tan Extender is pH balanced with plant derived glycerine, Vitamin E and DHA to provide the skin ultimate hydration, a bronzed natural colour and sheen. The ingredients are compatible with RADIESSENCE Tanning Solution and Instant Self-Tanning Mousse to achieve a natural bronze tanned look. It is specially formulated to moisturise the skin before tanning ensuring a flawless streak free finish especially on dry areas like the hands, knees, feet and elbows. It also has a dual purpose of working as a tan extender when used on the skin after tanning as it has DHA to extend the life of the tan. Packed with natural fruit extracts and Vitamin E (a natural antioxidant), this formulation when combined with the RADIESSENCE Tanning Solution or Tanning Mousse delivers a vibrant natural bronze colour and longer lasting tanning result on all skin types. It can be used on olive to darker skin tones on its own as it will give the skin a smooth, natural bronzed look with a sheen.
Size: 125ml Pre Tan Moisturiser and Tan Extender
NZ$19.90 (inc GST)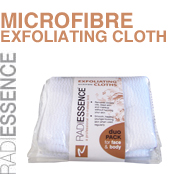 Microfibre Exfoliating Cloth
The ultimate exfoliating washcloth for face and body. Use with the RADIESSENCE Makeup and Tan Remover to remove makeup and residual tan or in the shower as an all body exfoliating cloth. This duo pack has a small wash cloth for the face and a larger wash cloth for the body. Each wash cloth can be reused up to 60 times.
NZ$11.90 (inc GST)
retail-accessories
retail-tanning
category