RADIESSENCE is a quick and easy makeup that yields a soft, smooth and younger looking skin. Enjoy a natural radiance that lasts all day long.
| | |
| --- | --- |
| | Purchase RADIESSENCE products online via PayPal (use your PayPal account OR your credit card). |
Shipping within New Zealand and Australia is free on purchases over $50 (ex GST).
Retail makeup Products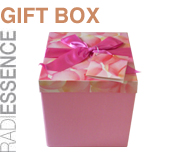 Gift Box
Send any of our products to friends or family with your personal message in our Gift Box.
Products for the Gift Box are purchased separately. Your message and the address that we will ship the gift to are entered in Step 2 of the checkout process.
Please note we will only send the receiver of the gift a delivery note. You will receive a confirmation invoice via email. Colour may vary from image shown.
NZ$6.00 (inc GST)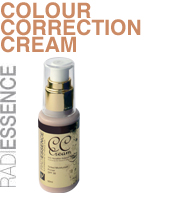 Colour Correction Cream
RADIESSENCE Colour Correction Cream is designed to conceal imperfections while providing a fresh matte finished complexion. It will help to even out your skin tone and improve your skin texture. The built-in moisturisers will hydrate your skin and vitamin E provides antioxidants that protects and repairs your skin. It works well on all skin types and hydrates without feeling greasy.
Use on its own or as a primer under RADIESSENCE Invisible Finish Foundation or under RADIESSENCE Pressed Powders. The cream is water resistant with a broad spectrum sun protection that helps screen out UVA and UVB rays.
With Ronaflair Balance Gold to enhance the beauty of every skin tone.
Tinted Moisturiser
Primer
SPF 30
Size: 50 ml
NZ$29.90 (inc GST)
Pressed Powder Bronzer
WINNER Best Bronzer Award
Voted 'Best Bronzer' in the prestigious New Zealand Women's Weekly 'Readers Choice Beauty Awards'.
These quality pressed powders have thousands of ultrafine luminous spheres which reflect light creating a naturally radiant look.
Utilising naturally occurring minerals (which are the rave of Hollywood makeup artists), RADIESSENCE Bronzers add colour, depth, and contour to the face while creating a natural sun-kissed complexion.
Available in two shades, a dark tan and a light tan, RADIESSENCE Bronzers are specially formulated to act as a Blusher, Eye Shadow and an All-Body Tan – ideal for women on-the-go.
With an SPF 12 rating the RADIESSENCE bronzers add an additional level of protection against sun damage and premature skin aging.
When used with the RADIESSENCE Invisible Finish Foundation, you gain an added SPF 30 protection while the bronzers lock in the foundation providing an incredible no make up look.
NZ$39.90 (inc GST)

Bronzer Refill Pack ONLY
Bronzer Refill Packs are available in our Online Shop. Replenish your supply.
Refill Pack ONLY.
NZ$24.90 (inc GST)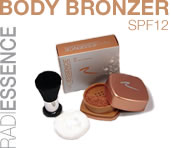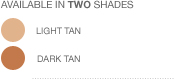 Loose Powder Body Bronzer
RADIESSENCE Mineral Body Bronzers are the ultimate in Body Bronzers. Naturally occurring minerals reflect light and add colour to give your skin a healthy natural tan look.
RADIESSENCE loose powder mineral body bronzer with body brush and puff is the fastest way to an incredible all body tan. This product is water resistant, rated at SPF 12 and known for its incredible no makeup look.
NZ$39.90 (inc GST)
Invisible Finish Foundation
Fantastic 3 in 1 makeup – a moist and creamy foundation, a cover up concealer and a broad spectrum SPF 30 sunscreen.
RADIESSENCE Invisible Finish is a luxurious lightweight compact foundation that glides on quickly and easily using the sponge, giving you a natural and healthy looking complexion.
By diminishing the appearance of fine lines and wrinkles, Invisible Finish evens out your skin tone leaving you with an instantly fresher, vibrant and younger looking face.
With RADIESSENCE Invisible Finish you do not need a seperate concealer as it will easily cover red broken capillaries, spots, scars, under-eye circles or birthmarks, and gives you a flawless looking complexion, with an incredible no make up look that lasts all day.
RADIESSENCE Invisible Finish is available in four shades and comes with a special sponge and blending brush.
NZ$49.90 (inc GST)

Foundation Refill Pack
Foundation Refill Packs are available in our Online Shop. Replenish your supply.
Refill Pack ONLY.
NZ$34.90 (inc GST)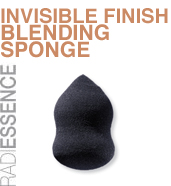 RADIESSENCE Invisible Finish Blending Sponge
The unique shape of this latex-free oblong blending sponge provides a comfortable grip, while easily reaching facial contours during make-up application providing you with a perfect invisible finish every time.
To achieve an Invisible Finish Flawless look with the RADIESSENCE Foundation using the Blending Sponge view:
RADIESSENCE Invisible Finish Blending Sponge on Youtube
NZ$12.00 (inc GST)
Pucker Up with LIP LUSTER Lipstick
A moisture rich formula containing Vitamin E, Manuka Honey and includes an SPF 12 to help protect, soften and condition your lips.
The Lip Luster is available in a Honey Bronze Dark shade that is used to make the lips appear smaller.
Unique to RADIESSENCE Lip Luster:
Contains Vitamin E
Long, comfortable, even wear
Moisture rich formula conditions lips
SPF 12
NZ$29.90 (inc GST)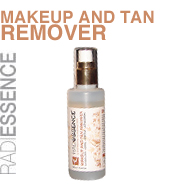 Makeup and Tan Remover
RADIESSENCE Makeup and Tan Remover is the natural, effective and gentle way to cleanse the skin from makeup and tanning products, while leaving the skin toned. Especially formulated alcohol free for use on sensitive skin, RADIESSENCE Makeup and Tan Remover is effective for all body cleansing and toning.
This alcohol free product combines the anti-bacterial, cleansing and antiseptic properties of tea tree oil, the soothing properties of aloe vera and the skin firming properties of witch hazel to provide a deep cleansing and toning of the skin.
Size: 125 ml
NZ$19.90 (inc GST)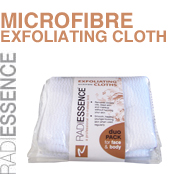 Microfibre Exfoliating Cloth
The ultimate exfoliating washcloth for face and body. Use with the RADIESSENCE Makeup and Tan Remover to remove makeup and residual tan or in the shower as an all body exfoliating cloth. This duo pack has a small wash cloth for the face and a larger wash cloth for the body. Each wash cloth can be reused up to 60 times.
NZ$11.90 (inc GST)
retail-tanning
retail-makeup
category