RADIESSENCE is a quick and easy makeup that yields a soft, smooth and younger looking skin. Enjoy a natural radiance that lasts all day long.
Professional accessories Products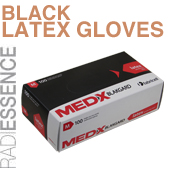 Disposable Black Latex Gloves
Box of 100.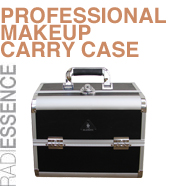 RADIESSENCE Professional Makeup Carry Case
The Makeup Case is very sturdy which makes it ideal for storing all your RADIESSENCE makeup pieces. It has plenty of room and is loaded with separate compartments making it super easy to keep all your makeup neat, tidy and all in one place – no more hunting around! It even comes with a personal security setting and key.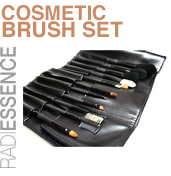 12 Piece Cosmetic Brush Set
This 12 piece brush set has been carefully selected to meet the needs of makeup artist. The brush set folds up perfectly into the case without the bulk making it ideal for storage and traveling.
The brush set includes:
Large powder brush (goat hair)  |  Round blush brush (goat hair)  |  Angel blush brush (goat hair)  |  Foundation brush  |  Deluxe chisel fluff eyeshadow brush (sable hair)  |  Deluxe oval eyeshadow brush (sable hair)  |  Angel eyeshadow brush (sable hair)  |  Concealer brush  |  Eyeliner brush  |  Pro spooly mascara  |  Eyebrow & lash comb  |  Covered lip brush  |  12 slot carrying case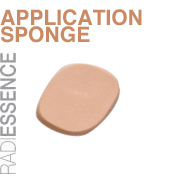 RADIESSENCE Invisible Finish Compact Oblong Sponge
The RADIESSENCE sponge is for use within a salon to trial the makeup.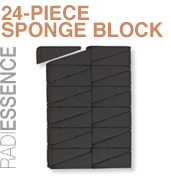 24 Piece Wedge Sponge Block (Black)
Evenly apply liquid and cream based formulas with this black latex-free polyurethane foam sponge block that comes with twenty-four removable wedge sponges.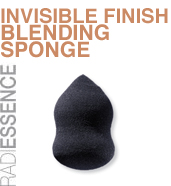 Invisible Finish Blending Sponge
The unique shape of this latex-free oblong blending sponge provides a comfortable grip, while easily reaching facial contours during make-up application providing you with a perfect invisible finish every time.
To achieve an Invisible Finish Flawless look with the RADIESSENCE Foundation using the Blending Sponge view: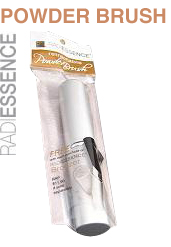 Retractable Powder Brush
This high quality brush is the ideal applicator for a wide variety of pressed or loose powder bronzers.
Lightweight and compact the soft bristles hold just the right amount of powder and gently moulds to the contours of the face giving a professional finish every time.
Body Bronzer Brush
For use with RADIESSENCE Body Bronzers.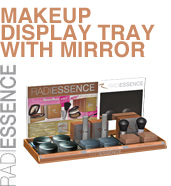 RADIESSENCEMakeup Display Tray with Mirror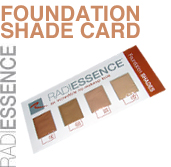 RADIESSENCE Foundation Shade Card
professional-promotional-products
professional-accessories
category